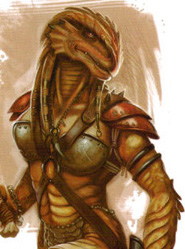 Last Sighting
Khelsey was last seen, still petrified, on a cart out of Krater, apparently kidnapped by ChristopheDeLaney.
Background
Khelsey is Rhogar's love, she was born at the same time as Rhogar in the rookery. They grew up as best of friends, it was very rare to ever see one without the other. As they began to get older, their feelings began to grow with them.
Before Heskan? stepped down from leadership, Rhogar expressed his love for her. When Rhogar became the new leader of the Medrash Clan, Khelsey was always there to help in anyway she could.
She took an instant dislike to Ostran, claiming to her love that the mage was to sly and creepy.
When Rhogar informed her to look after the castle and the rest of the inhabitants there, while he went to confront the Thava Clan she quickly disagreed. She suggested that she stay by his side, but he declined her offer saying that it would be safer at the castle. During the Medrash Massacre, she was turned to stone possibly by Ostran.
She now sits in her stone sleep watching over the castles courtyard.